Company
The company LIKOP, s.r.o. was founded in 1993 and was formed by the privatization of a company with almost twenty years of tradition in the field of metalworking and metal stamping.
Our business philosophy is based on long-term and friendly customer relationships and the practical experience and skills of our employees. The basic company values ​​include high potential of human resources, flexibility, good managerial skills and maximum effort for customer satisfaction.
When executing orders, our efforts are focused on a high level of delivered quality and adherence to agreed business conditions and deadlines. Our employees form a team that is able to implement the ongoing requirements of existing contracts and at the same time orders resulting from the development of new activities.
The whole team of LIKOP, s.r.o. strives for continuous improvement of all attributes of its activities in order to maintain competitiveness in the Czech and foreign markets.
Press shop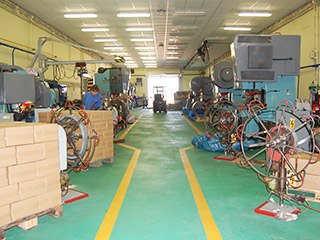 Pressing is performed on eccentric presses with a pressing force of 100 - 1000kN. The machines work automatically in the lines. This operation ensures the production of steel seals for strapping machines (mechanical, pneumatic) and automatons of producers as SIGNODE, ORGAPACK, FROMM, MOSCA, SIAT, ITATOOLS, PWL, TITAN, EXTEND, YBICO, FEIFER and others. The annual production of all kinds of steel seals exceeds the amount of 40,000,000 pieces.
In addition to the already mentioned strapping and binding technologies, we also press parts for other branches of industry as standard. Examples are not only molded parts supplied for the automotive, construction and engineering industries, but also parts for household appliances. Our press shop is ready to press custom parts according to the drawing documentation supplied by you, or a sample of the required product.
Engineering shop
Engineering shop is designed for the production of precision components and replacement parts, supplied to various industries. This production is equipped with EDM and CNC technologies, as well as machinery for machining by turning, milling, shaping, surface and center grinding, drilling, cutting and chip cutting. The production possibilities are complemented by a complex of heat treatment (in cooperation).
Tool workshop
The tool shop provides construction, production and repairs of pressing tools and molds, including consulting activities. Production is performed on EDM and CNC machines. The heat treatment of tool steels is realized as standard. We are newly equipped with an engraving and marking laser. Our qualified staff is ready to offer you their many years of experience in solving your specific requirements.