Company
The company Likop Ltd. has been working since 1993 and it was formed by transformation of company with Long-time experiences in a field of metal stamping (including design and production of press tools).
The Likop Ltd. offers a single parts and short-run production of different components and spares in a wide range of materials, sizes and weight of the products. The highly qualified team, which carries on closing technological cycle from CNC and EDM machining, welding, heat treatment to own assembly and carefully control of all these construction entireties which we make.
We have developed contacts with customers from important companies of automobile industry, metallurgy, engineering, building industry, wood - working and paper converting industry in the Czech and foreign markets. These companies have got high requirements for quality and delivery terms of all realized orders. The LIKOP is ready to fulfil these demands for you.
Press shop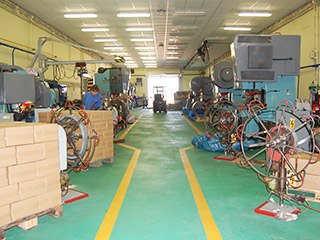 Metal stamping is carried on eccentric press machines with mechanical-pneumatic feeding of metal sheet with molding power from 10 to 100 tons. We are engaged in production of binding clips for manual or pneumatic strapping tools and automatons of companies SIGNODE, ORGAPACK, FROMM, MOSCA, COLUMBIA, SIAT, PWL, TITAN, FEIFER etc. Annual production all kinds of the seals is over 40 millions pieces.
We standardly produce pressed parts for the other applications as well. We supply to automotive, building and engineering industries. Our press shop is ready to meet your requirements connected with pressed parts according to your drawing documentation or samples.
Engineering shop
Machine works are destined for realization of production of precise components and spare parts which are delivered to the various branches of industries. The facility of the manufacturing technology contains EDM and CNC machines and devices for turning metal working as lathing, milling, shanking, surface and apex grinding, horizontal boring, drilling, metal shearing, metal cutting or gas cutting. The manufacturing facilities are complemented with welding, renovation of perch components with submerged arc welding, and complex of the heat treatment.
Tool workshop
There we are engaged in design, construction and reparations of press tools and moulds including advisory activities. This manufacture is carried on EDM and CNC technologies. We standardly make heat treatment of tool steels. The skilled and experienced staff of the tool workshop together with higly qualified designers are able to produce all required tools from preparation of documentation to a test prototype.